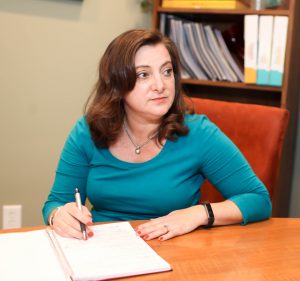 Daigle Creative's wizard for paid advertising strategy and planning is Renay Daigle. Renay studied the field and earned her degree at the University of Florida, created campaigns at one of the Southeast's largest ad agencies and even worked on the ad sales side for a while before launching her own agency almost 15 years ago.
Renay has seen myriad changes through almost three decades of successful work in the industry. These days, she's watching and navigating the fast-moving trends in digital advertising and leveraging the advances to help Daigle Creative clients.
We recently had the opportunity to ask Renay about what she saw as some of the most important industry trends. Here are a few excerpts from our conversation:
DC: How is Daigle Creative integrating mobile phones during digital campaigns?
RENAY: We've created targeted digital ad strategies in campaigns for clients ranging from international Fortune 500 companies to local nonprofits to political campaigns. Daigle Creative blends creativity and technical expertise to design our mobile digital campaigns. With up to 75 percent of consumers expected to view digital ads on mobile devices this year, it's never been more important. As always, the strategy and creative comes down to client's goals. For example, we've used mobile-only geofencing campaigns with simple ads delivered on apps to reach a very narrow target market of lower-income expectant mothers. By contrast, we've also successfully cast a broader net when that was needed. An example of this is when we partnered with a news site to do mobile weather sponsorship for an HVAC company during peak summer months and hurricane season, which resulted in more than a million impressions in just one month. The key to the creative in both cases was keeping the message clear and benefit-oriented with striking design.
DC: What important trends are you watching in digital advertising?
RENAY: We are seeing increasingly better intelligence on audiences, and therefore improved options and results for advertisers. Improved access to audience data provides us with a better ability to pinpoint target audiences, study their preferences and personalize ads that focus on their interests through multi-channel digital marketing. This reduces wasteful spending and improves efficiency for advertisers. Innovations in ad targeting are increasing along with marketing automation. The result is better retargeting of ads that drastically increase conversion rates, even with fewer impressions. Targeting customers with digital ads based on content they've recently viewed online also reduces ad fatigue and substantially raises click through rates.

Other innovations that promise to shake up the digital advertising frontier include the rapid rise of voice searches and chatbot customer service agents that threaten to challenge or replace traditional search engines like Google. Virtual assistants like Alexa, and Google Home are gaining traction with 18 percent of the population using voice-enabled digital assistants monthly and Google estimating that up to 20 percent of mobile searches are now done by voice. While this is still a developing space, it's important to pay close attention to its potential impact on businesses.
DC: What are you doing to make Daigle Creative clients' ads stand out in an increasingly crowded digital ad market?
RENAY: At its core, it's about understanding our clients' goals and their target markets equally well. Technology continues to make connecting effective ads with the right audiences more efficient. At Daigle Creative, we know that what makes an ad stand out is ensuring that its content is relevant and compelling to its particular audience. Advertising, more than anything, is about good storytelling. Whether through images or copy, all ads need to tell compelling stories that connect with target audiences, letting them know how a product or service will benefit them.
DC: How do you see digital marketing changing this year?
RENAY: Data and attribution are going to continue to rise as businesses look for actionable insights to tell them what's working and what isn't. In the digital landscape, we are drowning in data, but many businesses don't know how to read it, much less use it. Over The Top, or OTT, video will continue to grow as more people cut the cord on traditional cable/satellite television. In the U.S., 81 percent of internet users regularly stream or download content to their TVs and digital devices according to a recent report by Global Digital Video Viewers.

As brands continue to allocate more money towards digital advertising, they are also demanding more in terms of results and reporting. Last year, Proctor & Gamble cut $200 million of their digital ad spend and reallocated it towards other media. Even as digital continues to grow this year, we see more brands and advertisers pushing for better placement, results and metrics.

One change occurring for advertisers in the U.S. is Google's continuing efforts to speed delivery of web pages and their advertising to improve users' experiences on mobile devices. Following its 2016 launch of accelerated mobile pages or AMP, Google continues to explore new ways to help web pages deliver content as fast as apps like Facebook and Apple News. These efforts promise major enhancements for digital ad delivery in the U.S. where internet speeds still lag behind other major markets around the world. This would certainly increase U.S. brands' interest in how they can use digital ads on more mobile platforms.

Social marketing is becoming more important for marketers to include in their overall campaigns. Social media advertising spending has doubled in just two years and is expected to grow at a rate of $6 billion per year, according to Hootesuite.

Finally, companies like Google and Facebook that have been under fire recently have started making changes to promote not only relevant, but safer advertising on their platforms. Facebook recently rolled out changes to its newsfeed (favoring local news outlets and posts from friends) and cracked down on privacy regulations. Google also launched their "Google Guaranteed" ad type for Home Services clients (now called Local Services Ads). This year will surely be filled with many more changes.
DC: What changes are coming in terms of video, voice, social media and print ads?
RENAY: We're seeing brands working harder and more creatively to catch the attention of consumers. Traditional media is increasingly fragmented. That makes digital advertising even more appealing to brands even as increasing regulations restrict online marketing. Data certainly supports the continued innovative layering of media as target audiences are more often two- and three-screening some combination of television, digital display and video. These trends make social media ads increasingly effective as social media continues to be the top online activity and online content publishers are increasingly reliant on Facebook to drive audiences to them.

Another innovation shaking up the ad marketplace is the advent of outstream, or in-read, video. The outstream video ad format allows publishers to show video content outside of actual video players through in-text line breaks or at the corners of web pages. This could reduce or eliminate the pre-roll, or instream, video ad as a preferred video ad format. This innovation will also seriously challenge the role traditional video players YouTube and Vimeo occupy in the video ad landscape. By 2019, online videos are expected to represent as much as 80 percent of all internet traffic. Outstream video ads will put much more control and revenue in the hands of content producers like CNN, Forbes and BuzzFeed.
DC: What do you tell small business clients who want to broaden their reach through advertising and marketing?
RENAY: We would tell them first to find a marketing partner willing to invest the time, attention and creativity necessary to truly understand their challenges and opportunities. We would also recommend that they give their integrated advertising efforts time to be effective. Too many small business owners test advertising but then throw in the towel when they don't see immediate results. Daigle Creative understands small business owners in a very personal way. This understanding has helped us help small businesses and start-ups achieve impressive results with scalable marketing investments.
DC: What kinds of digital ads do target audiences respond to?
RENAY: Audiences in all media forms still respond to relevant, compelling advertising of good products or services to which they are repeatedly exposed. It's basic human nature and fundamental business strategy. As was said by advertising icon Leo Burnett "good advertising does not just circulate information. It penetrates the public mind with desires and belief."
###